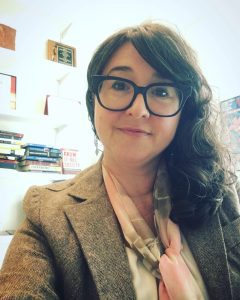 Assistant Professor Amanda J. Crawford has been elected to the national board of directors of the Journalism & Women Symposium.
JAWS is a 35-year-old nonprofit organization of journalists, educators and researchers that provides support, training and resources on issues impacting women (cisgender and transgender) and non-binary individuals in the journalism field. JAWS' mission is to support "the professional empowerment and personal growth of women in journalism" and to advocate and work toward "a more accurate portrayal of the whole society."
Crawford is a former Bloomberg News reporter with a background covering gender issues, including sexual assault and reproductive rights, and an academic focus on journalism ethics. She is an advocate for diversity, equity and inclusion in journalism and higher education and is herself a first-generation college student.
Crawford joined the board during its annual conference Oct. 15-17, during which she also co-hosted the academic social hour and lead a panel discussion, "Journalism in a Post-Truth World: Best Practices for Covering Misinformation, Disinformation & Conspiracy Theories."
---