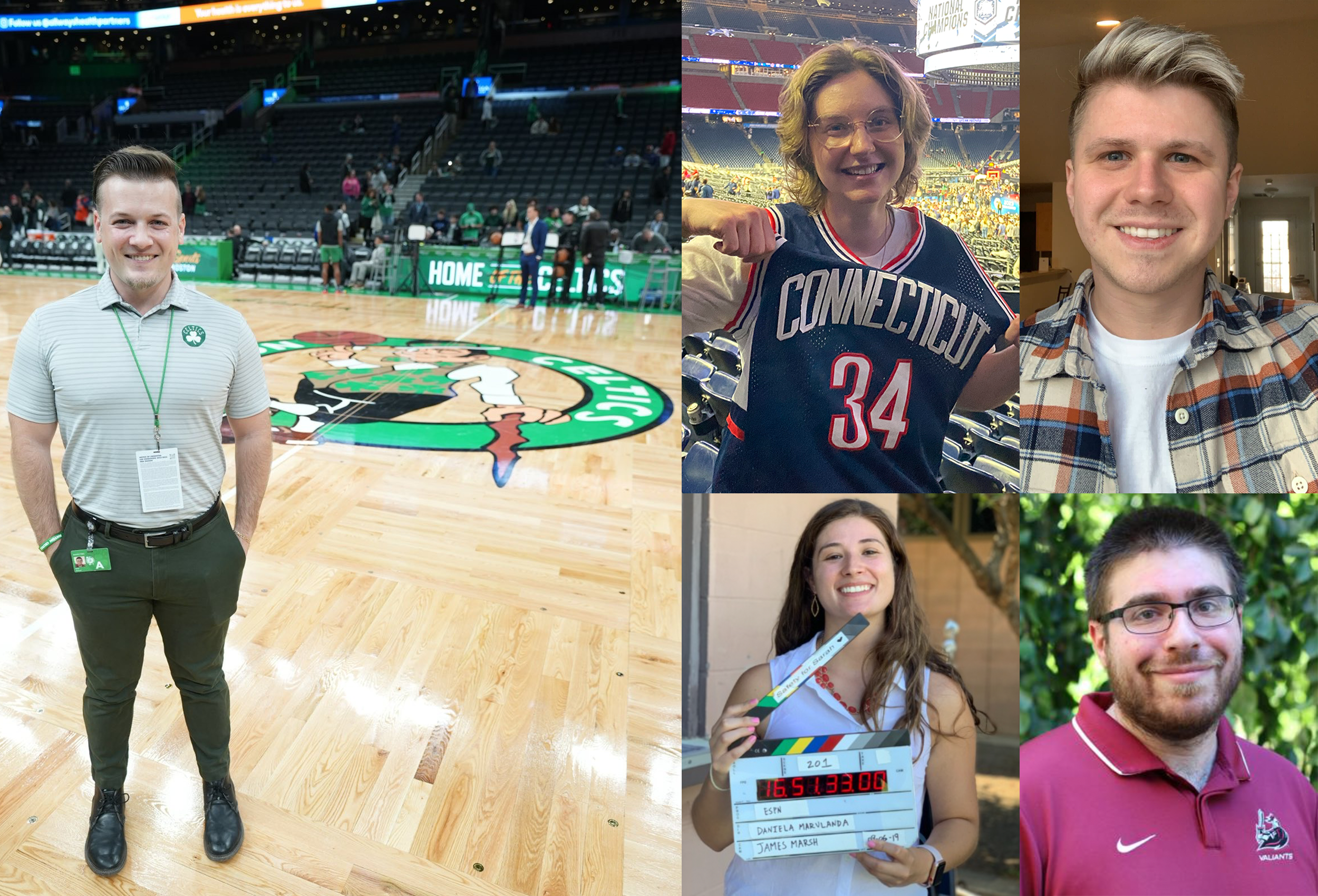 George Will once wrote, "Baseball, it is said, is only a game. True. And the Grand Canyon is only a hole in Arizona." Sports are more than games. Sports reporters, writers, producers and communicators know this more deeply than even the fans.
UConn Journalism alumni who work as sports communicators all say that their training in multiple skills—reporting, writing, podcasting, editing, video production, and more—gave them the foundation they needed to be valuable and flexible in their work.
"What has really helped me is taking the Swiss Army knife approach," said Michael Sivo Jr. '15, social media manager for the Boston Celtics. "I have worked hard to create a broad skill set. A huge thing for me at UConn was taking deep dives – video editing, photo editing – those are skills that are very, very desirable on the job market right now."
Meet five UConn Journalism alumni who all loved sports from a young age, relish the fast pace of journalism and sports, and found their journalism training applicable in many kinds of jobs related to college and professional sports.
Loved sports early
Watching soccer games with her father in Colombia, where she lived until age 12, Major League Baseball marketing coordinator Daniela Marulanda '18 began wishing she could produce sports videos for a living. After her family moved to Connecticut, she studied journalism and communications at UConn and wrote sports stories for The Daily Campus. She didn't think of baseball as her game when she started at ESPN as a production assistant. But she wanted to learn. A friend who was a Chicago White Sox fan taught her the intricacies of baseball. And Marulanda, who reported often in Spanish, became interested in how many Latinos are great baseball players. The sport brought her background in line with her interests. "Baseball is really big in the Caribbean, and the Dominican Republic especially," she said. "You get a lot of exceptional athletes. I think they deserve to be seen as the shining stars that they are."
Rob Moore '14, who produces YouTube videos for ESPN, said in his childhood sports was always his "north star," and he thought he'd work in sports by being a physical therapist. He started on that track at Springfield College before he realized he wanted to transfer to UConn and try something else. He tried sociology and psychology; someone suggested he take a journalism class.
Fascination with sports also started early for John Ewen '16, who works as athletics communications director at Manhattanville College. "Playing wise, my skills left a lot to be desired," Ewen said. "But every morning before school, it would be SportsCenter on TV while eating breakfast." He wrote some for Bleacher Report in high school. Later, at UConn, the "sudden deadline day" exercise in Newswriting I made him realize he could combine his skills with his passion (more on that below). Ewen worked for a public relations firm right after graduation, but he was laid off eight months later. His father noticed an ad for an athletic communications assistant at Pace University. Ewen got and loved the job. He also earned a master's degree there. In 2021, he was hired at Manhattanville.
Stephanie Sheehan '19 said she began freshman year at UConn dreaming of a job in social media. "I really wanted to be tweeting funny things during baseball games—but professionally, haha." Which is one of her duties now as editorial and social producer for Major League Baseball. She joined the Daily Campus sports staff "the very first day I set foot on campus." She got a scholarship to work for MLB right after she graduated, and later worked for the Roanoke Times before returning to MLB.
 Jobs that require many skills
Working around sports games and tournaments means that no two days are alike.
"This is definitely not a job for everyone," Sheehan said, as she explained the duties of her remote job for MLB: she works the night shift from Tuesday through Saturday, monitoring more than 60 Minor League Baseball games and posting highlights on Twitter and Instagram. She also writes "anything from recapping a good game from a top prospect to more feature-y content for MiLB. I've written about and talked to Bobby Witt Jr., Jordan Walker, Pete Crow-Armstrong, Brett Baty, Francisco Alvarez, Anthony Volpe, Jack Leiter... lots of top prospects. It's really fun."
Sivo's work for the Boston Celtics includes managing all of the team's social media accounts and apps, posting about games, news, trades, and transactions. He edits some video and photography. "I'm responsible for posting all sorts of things, and along with that I provide some video and content editing work." That can include recording the team walking into the locker room after a big win. "Everybody's excited," he said. After a big win recently, he recorded players celebrating on his phone – something simple and very relatable for fans. "When it feels that you could have been there yourself taking that video it just seems to relate better for fans." He posted it right away.
Marulanda's job at MLB is new as of March 2023. After working for ESPN, she started at MLB as marketing coordinator for the World Baseball Classic, but she now has a permanent position as senior marketing coordinator in New York. She helps create advertisements, writes content for different platforms, and makes Play Loud videos, short snippets of conversations in the dugouts "so we can show people what players are thinking at a game."
Moore's work producing videos for ESPN's YouTube channel has drawn in 13- to 24-year-old viewers of short excerpts of their programming and led to 20 billion views and 300 million unique users globally in 2022. The work he produces is made into podcasts, too.
Ewen said his job description might be best described by listing what he does not do. Working with two graduate assistants below him, he acts as official statistician for home games for 23 teams, overseeing public address and online broadcasts, writing press releases, and managing social media channels. "Since Manhattanville is so small and a sizeable portion of our student body are athletes, I get to know our teams and players very well," he said. "I feel just the way that we're structured here has naturally allowed those relationships and connections to develop, which makes my job easier."
The impact of UConn Journalism training
Ewen remembers the "good old sudden deadline day" in Newswriting I as a turning point for him. "It was just after Paul Pasqualoni was fired as the football coach," he said. "I was walking up Mansfield Road, having no idea what to write about, when I saw signs in the lawns announcing a welcome event with the new interim coach, TJ Weist." He started interviewing any students he came across about the football program. The assignment "helped me figure out how to find and write a story on a crunch." Working under pressure taught him to produce quality work in limited time.
Sheehan said journalism taught her basic skills and confidence. "There are so many things you can do with a journalism degree now, and I appreciate the way UConn Journalism lets students decide exactly which path they want to take —sports, news, TV, digital, photography/videography, you name it." She also appreciated the supportive professors who were "always there" for her.
The creative act of generating story ideas and narratives came alive for Marulanda at UConn. Instructor Steve Buckheit '93, who is a features producer at ESPN, taught a sports feature reporting class. "You could see his work allows him to do a lot of storytelling -- thinking of ideas." She learned that you don't have to be the person with the microphone to be creative in putting a piece together. She also said the she learned in her classes and at the Daily Campus to tell stories in new ways. "Athletes today have so many ways to tell their stories," she said. "It's possible to tell a story about Tom Brady without interviewing Tom Brady."
Moore said hadn't realized that journalism could be more than writing until he learned video skills at UConn and designed a website with Associate Prof. Marie Shanahan '94. He was glad that he got into digital videos for ESPN at a time when it was about to grow.
Sivo described himself as tireless and driven in his work for the Celtics. He traces some of that drive to two classes he took with Associate Prof. Marcel Dufresne. "He taught me not to be afraid to ask the difficult questions."
Interested in sports journalism? Register for JOUR3015: Sports Reporting. Offered every semester.
---
— by Christine Woodside