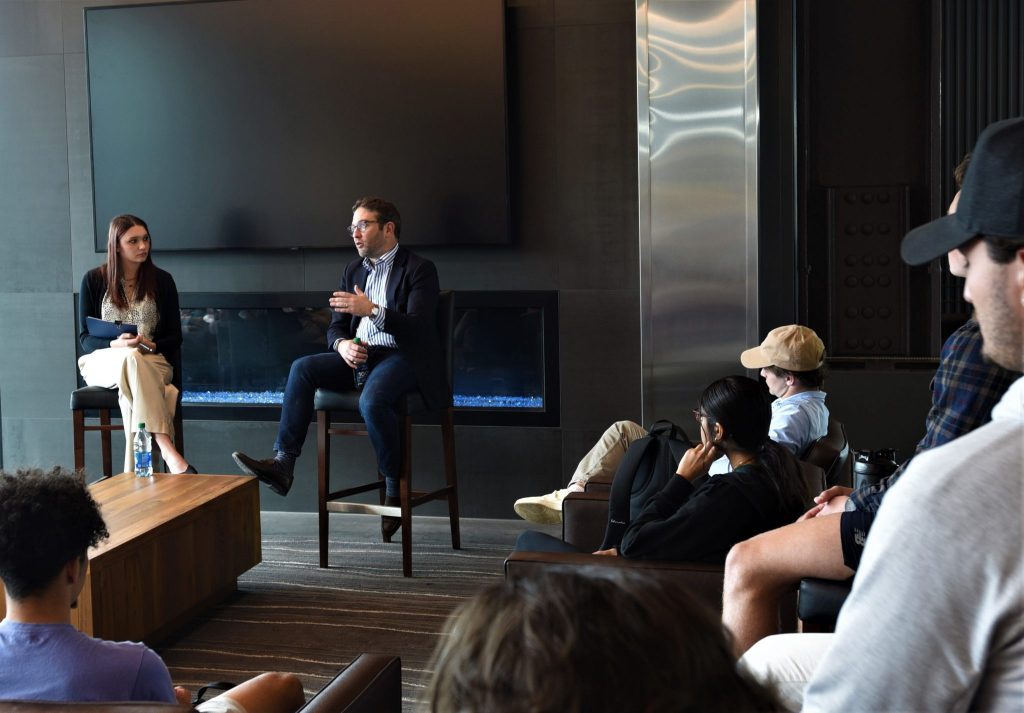 Jake Sherman got some really good advice from a fellow reporter when he joined the newsroom at the Wall Street Journal.
"Don't try to be a generalist," he shared. "Find your niche, and be really good at one thing, and people will always need you around."
Sherman offered that advice – and his thoughts on the current state and future of journalism in the United States – to more than 70 journalism and entrepreneurism students who attended a moderated discussion with the political journalist and author, held at the Toscano Family Ice Forum's Blue Line Club on Tuesday afternoon.
For more than a decade, Sherman has worked in his own niche, covering national politics with a focus on reporting on the U.S. Congress, congressional leadership, and the politics of legislating. He worked for 11 years as the top congressional reporter on Capitol Hill for POLITICO and the co-author of POLITICO's Playbook newsletter. But after watching the news organization grow from a newsroom of 20 to a worldwide operation of more than 500, he decided to leave.
And to launch his own online political news venture, forcing him to wear a familiar hat – that of the journalist – and a brand new one: that of the entrepreneur.
"It was a huge risk," he said. "But I think, in life, you know when it's time to take a risk."
---