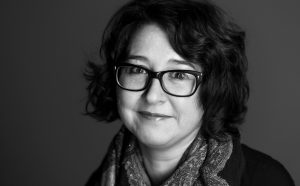 Amanda J. Crawford is a veteran political reporter and essayist who joined the journalism faculty of the University of Connecticut as an assistant professor in Fall 2018.
Prof. Crawford's research areas include journalism ethics, media law, misinformation, and the role of journalists in democracy. As an investigative reporter and literary journalist, Prof. Crawford's work explores the intersection of creative writing and reporting.
A 2020-21 fellow at the UConn Humanities Institute, Prof. Crawford is writing her first book about the fight against misinformation after the mass shooting at Sandy Hook Elementary School in Newtown, Connecticut, in 2012. She was awarded a SCHARP award from the university in 2019 in support of this project.
Prior to coming to UConn, Prof. Crawford held faculty appointments in the School of Journalism & Broadcasting at Western Kentucky University (assistant professor, 2014-18) and the Walter Cronkite School of Journalism & Mass Communication at Arizona State University (lecturer, 2008-10). She worked as a reporter for Bloomberg News, The Arizona Republic, The Baltimore Sun and People Magazine. She has written for many other media outlets including Businessweek, National Geographic, The Chronicle of Higher Education, The Hartford Courant, Ms. Magazine, Huffington Post, Phoenix Magazine, and High Times. She has also been published in literary journals including Creative Nonfiction, Hippocampus Magazine, Full Grown People and The Midnight Oil. Prof. Crawford was a 2007 finalist for the national Livingston Award for Young Journalists and has won numerous regional journalism and FOI awards. In 2018, she was nominated for a Pushcart Prize in nonfiction.
Prof. Crawford holds a Master of Mass Communication degree from Arizona State University. Her bachelor of art degree is from the University of Maryland, where she studied journalism and creative writing and was named the college's outstanding News-Editorial graduate. Raised in Appalachian Maryland, Prof. Crawford was the first person in her family to attend college and has an affinity for helping first-generation college students and those from underrepresented communities transition to academia.
Recent work:
Classes: Journalism Law, Journalism Ethics, Newswriting I, The Press in America
Website: www.amandajcrawford.com
Twitter: @amandajcrawford
LinkedIn: linkedin.com/in/amandacrawford