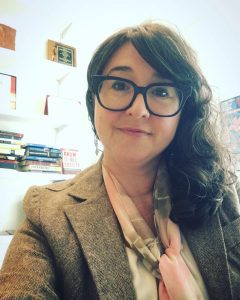 Amanda J. Crawford is a veteran political reporter and literary journalist who joined the faculty of the University of Connecticut in 2018.
Prof. Crawford's research areas include journalism ethics, media law, misinformation, mass shooting denial, and the role of journalists in a democracy. As an investigative reporter and creative nonfiction writer, her work lies at the intersection of literature and reportage.
Prof. Crawford is writing her first book examining the dual crises of gun violence and misinformation. Her articles about the fight for truth after the mass shooting at Sandy Hook Elementary School and the trials of disinformation purveyor Alex Jones and other conspiracy theorists have been published by major media outlets including The Boston Globe, The Chronicle of Higher Education, The Conversation and CNN. "Truth for the Dead," a 14,000-word narrative on a Sandy Hook family's decade-long fight against hoaxers, was the cover story of Boston Globe Magazine in August 2022. Prof. Crawford was a 2020-21 fellow at the UConn Humanities Institute and was awarded a SCHARP award from the university in 2019 in support of this project.
Prof. Crawford has a deep background covering gun policy as well as mass casualty and other gun violence. She is a research affiliate of the UConn ARMS Center and the Rockefeller Institute's Regional Gun Violence Research Consortium.
Prof. Crawford also serves on the national board of directors of the Journalism & Women Symposium (JAWS) and is co-chair of the professional organization's membership committee.
Prior to coming to UConn, Prof. Crawford held faculty appointments in the School of Journalism & Broadcasting at Western Kentucky University (assistant professor, 2014-18) and the Walter Cronkite School of Journalism & Mass Communication at Arizona State University (lecturer, 2008-10).
She previously worked as a reporter for Bloomberg News, The Arizona Republic, The Baltimore Sun and People Magazine. Her work has been published by many other publications including Businessweek, National Geographic,  Talking Points Memo, Nieman Journalism Lab, Nieman Reports, The Miami Herald, The Hartford Courant, Ms. Magazine, Huffington Post, Phoenix Magazine and High Times. She has also published in literary journals including Creative Nonfiction, Hippocampus Magazine and Full Grown People. Prof. Crawford was a 2007 finalist for the national Livingston Award for Young Journalists and has won numerous regional journalism and FOI awards. In 2018, she was nominated for a Pushcart Prize in nonfiction.
Prof. Crawford holds a Master of Mass Communication degree from Arizona State University. She earned her  bachelor's degree from the University of Maryland, where she studied journalism and creative writing and was named the Outstanding News-Editorial Graduate. Raised in Appalachian Maryland, Prof. Crawford was the first person in her family to attend college and wants to help other first-generation college students and those from underrepresented communities succeed in academia.
Recent work:
Classes: The Press in America, Journalism Law, Journalism Ethics, Newswriting I
Twitter: @amandajcrawford
LinkedIn: linkedin.com/in/amandacrawford