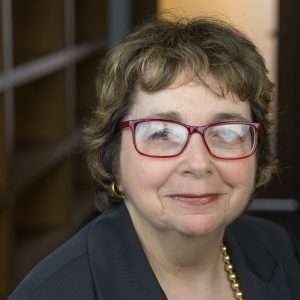 Professor Maureen Croteau served as UConn Journalism's department head from 1983 to 2021. She holds the distinction of being UConn's longest-serving department chair and the first woman to lead an academic department in the College of Liberal Arts and Sciences.
During her 38 years as professor and head of the Department of Journalism, she made a tremendous impact on thousands of students and the field of journalism.
Prof. Croteau arrived in Storrs after more than a decade working as a newspaper reporter and editor in Hartford and Providence at  The Hartford Times, The Hartford Courant and the Providence Journal-Bulletin.
When she accepted the position of department chair in 1983, the department had three faculty members and a roomful of manual Underwood typewriters on old oaken desks. In 1985, she set up the department's first computer lab, one of the first on campus. The department now has eight full-time faculty members, including two Pulitzer Prize winners, serving more than 200 undergraduate majors and pre-majors. Under her leadership, UConn Journalism has become the only nationally accredited journalism program in New England. 
Prof. Croteau's freelance work has appeared in dozens of newspapers across the U.S., including The Washington Post, The Houston Chronicle, The Denver Post/ Rocky Mountain News, The San Francisco Chronicle, The Harford Courant and The Florida Times-Union.
Since 1991, Prof. Croteau has been a director at The Day, where Publisher Gary Ferrugia called her, "the conscience of the company in all matters regarding journalism."
She is a UConn alumna ('71) and earned her master's degree from the Columbia University Graduate School of Journalism. In 2014, she was named New England Journalism Educator of the Year, as chosen by the New England Newspaper and Press Association.
She is co-author of two books: a humor book, "Shipwrecked in the Tunnel of Love" (Recreation Publications), and a reference book for non-fiction writers, "The Essential Researcher" (Harper Collins).
Prof. Croteau was inducted into the Connecticut Journalism Hall of Fame in 2017.