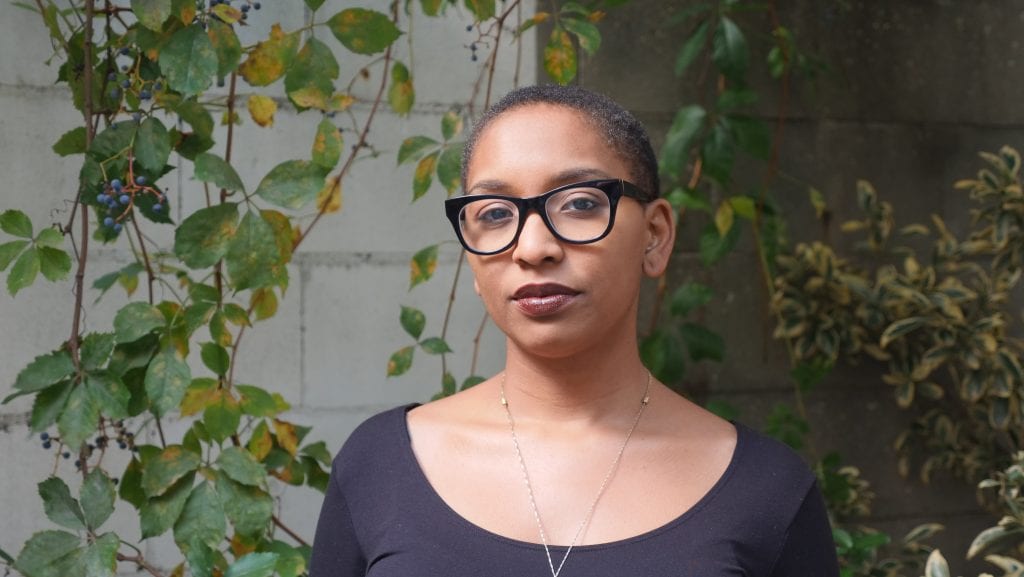 Documentary filmmaker Martine N. Granby has joined the Department of Journalism as an assistant professor. She holds a joint appointment in the Africana Studies Institute, and is an affiliate of UConn's Women's Gender, and Sexuality Studies Program.
She has worked as a documentarian, producer, editor, video journalist, and educator for The New York Times, Kartemquin Films, The New School, City Bureau, BRIC TV, UnionDocs, and Global Girl Media, an organization empowering young women with the tools for visual journalism to tell their own stories.
Granby's films weave between documentary, experimental non-fiction, hybrid, and essay forms. Her creative research focuses on interrogations of and material experimentation with family and collective moving image archives, ethical considerations of found footage usage, discourses around mental health in BIPOC communities, and the narrative residues of pop culture in personal memories/viewership.
"I'm beyond thrilled to meet and work with the students and faculty in both the Journalism department and my joint-appointed home in the Africana Studies Institute," Granby said. She will relocate from Brooklyn, N.Y. and be in residence on campus in Storrs this fall, doing occasional guest teaching. She will begin teaching her own courses in spring 2022.
Her teaching focuses on technical film training and observational critique pulling from diverse film, video, journalistic, and media arts samplings that include but go beyond the traditional canon.
She received her bachelor's degree in sociology and film studies from Mount Holyoke College and earned a master of arts from Northwestern's Medill School of Journalism.
"Some of the best advice I received while in graduate school was not to compare yourself to your peers," Granby said. "We are all learning together, and everyone brings something different to the table. Honor your own eye and point of view in this field." In 2015, Granby and a group of her fellow black female documentary filmmakers formed the coalition Brown Girls Doc Mafia.
Her current project is a short film that is part of a three-film series on access to and barriers against mental health care in Black communities. Her earlier work includes a feature film, "The Mask that Grins and Lies," a personal essay portrait of intergenerational silence around women's mental health in her family.
This fall she will premiere a documentary short co-directed with Shirin Barghi for Brooklyn-based BRIC TV. It covers the history of New York City's oldest women's motorcycle club: "its place in queer history, the lives of its members, and the sisterhood of a chosen family," she said.
Her teaching goals include teaching about the shifting landscape of film production, to encourage students to ask questions about how they interact with their subjects and audience, and helping students look at media in new ways.
"Students must approach my class as members of a collaborative, democratic, and generative environment," she said. "We create a collective space in which students shape, share, and strengthen their journalistic and filmic voices."
Granby added, "Budding documentarians and video journalists must learn how to articulate the choices behind their work, and learn to examine how the media they create is received, ingested, and impacts the surrounding polity is an essential part of the documentary practice."
---