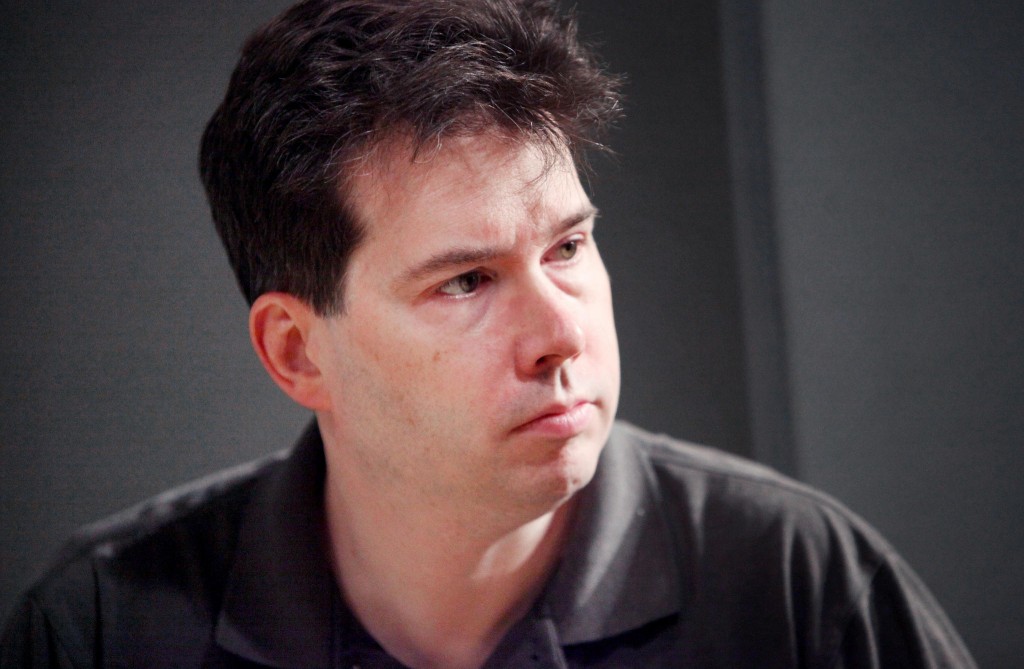 Three semesters into his college career at the University of Connecticut in 1983, Keith Phaneuf dropped out.
Deciding he had no business majoring in engineering, Phaneuf nabbed a job as a reporter at a local radio station, WINY in Putnam.
"I wasn't entirely interested in working for the radio industry, but I really liked the reporting aspect to my job," Phaneuf said.
After a full year of covering municipal meetings for the radio station, Phaneuf decided to re-enroll at UConn, this time majoring in journalism.
And so, as a junior commuter from Putnam, Phaneuf began working his way through UConn's journalism courses in the fall of 1986. First up was Newswriting.
Phaneuf was confident. "I'm so far ahead of these clowns; I know what I'm doing,'" he recalled thinking.
Halfway through the semester on a particular day that still stands out, Phaneuf remembered how he had actually parked in the off-campus commuter lot (instead of sneaking a spot on-campus and risking a ticket from campus police).
"I grabbed a shuttle bus from there to Arjona," he said. "The driver of the bus was complaining to someone who was sitting near the front about how there weren't enough drivers and she had to cover too many shifts."
Vaguely preoccupied, Phaneuf hopped off the bus, headed into Arjona and plopped down at his desk only to be handed the dreaded Newswriting "sudden death" assignment.
"There were a range of reactions. A couple of kids peed down their legs, some kids laughed and others just rushed over to the Co-Op," he said. "I was used to working around a certain amount of pressure. I honestly didn't completely panic."
Phaneuf walked outside, wondering what he was going to cover and then a shuttle bus went right by him.
"I saw it and I said to myself, 'there it is,'" he said. "There's a shortage of shuttle bus drivers."
He took two steps onto the bus and asked the driver where transportation service headquarters were located.
Turns out, she was on her way there. The driver woman radioed ahead and asked if Harold Gagne, the transportation director, would be up for an interview.
She got his consent for an interview on the spot.
"My good luck was just flowing at this point," Phaneuf said. "I was literally being driven to my sudden death assignment."
He talked with the transportation director, ran back to Arjona and threw together his story.
"I didn't do a very good job with it. I didn't talk to a single passenger and there were all kinds of problems. I think I misspelled buses," he said. "I knew when I went back though, that I did have a story. I remember other kids had written about how there was a sale at the bookstore."
The sudden death story didn't end there, however.
"When you turned in an assignment back then, you handed in three copies: a permanent file, a hard copy turned back to you and a copy for The Daily Campus who had the option to use it or not," Phaneuf said.
A couple of days later, Phaneuf picked up a copy of UConn's student newspaper and discovered his story. Only it had been run under another person's name.
"They had edited it some, but it was my story," Phaneuf said.
Phaneuf told his professor, Peggy McCarthy, and later learned that the journalism department threatened to stop sharing student stories with the Daily Campus if something like this ever happened again.
Phaneuf remembered going to speak with an employee at the Daily Campus — a "social misfit" who brushed off the incident as a freshman slip-up.
The Daily Campus never ran a correction of the story. However, Phaneuf still keeps his original version of the story.
"I fell backwards into a good story," Phaneuf said. "The one day I followed the rules and took the shuttle bus, then the bus drove in front of me and the transportation supervisor was in the office and he agreed to talk to me. On the other hand, I had some bad luck because the Daily Campus plagiarized my sudden death story."
Phaneuf has spent most of his 24 years as a reporter specializing in state government finances. He interned as a reporter at The Day in New London in the spring of 1988 before graduating from UConn that May. He then worked as a reporter for The Day from 1988 to 1993, including one year covering the state capitol.
In 1994, Phaneuf took a reporting job at the Journal Inquirer in Manchester. From 1998 to 2010, he covered state government and politics for the JI.
Phaneuf is now the state budget reporter at The Connecticut Mirror, a nonprofit news website that has the largest bureau covering the state capitol.
Follow Keith Phaneuf on Twitter at @CTMirrorKeith.
UConn Journalism celebrates 50 years on April 15-16, 2016 with special events on campus in Storrs. All alumni and friends are invited to participate in interesting talks, food, tours, drop-in workshops and visits with old (and new!) friends. To RSVP for this event, please complete this registration form today. 
---