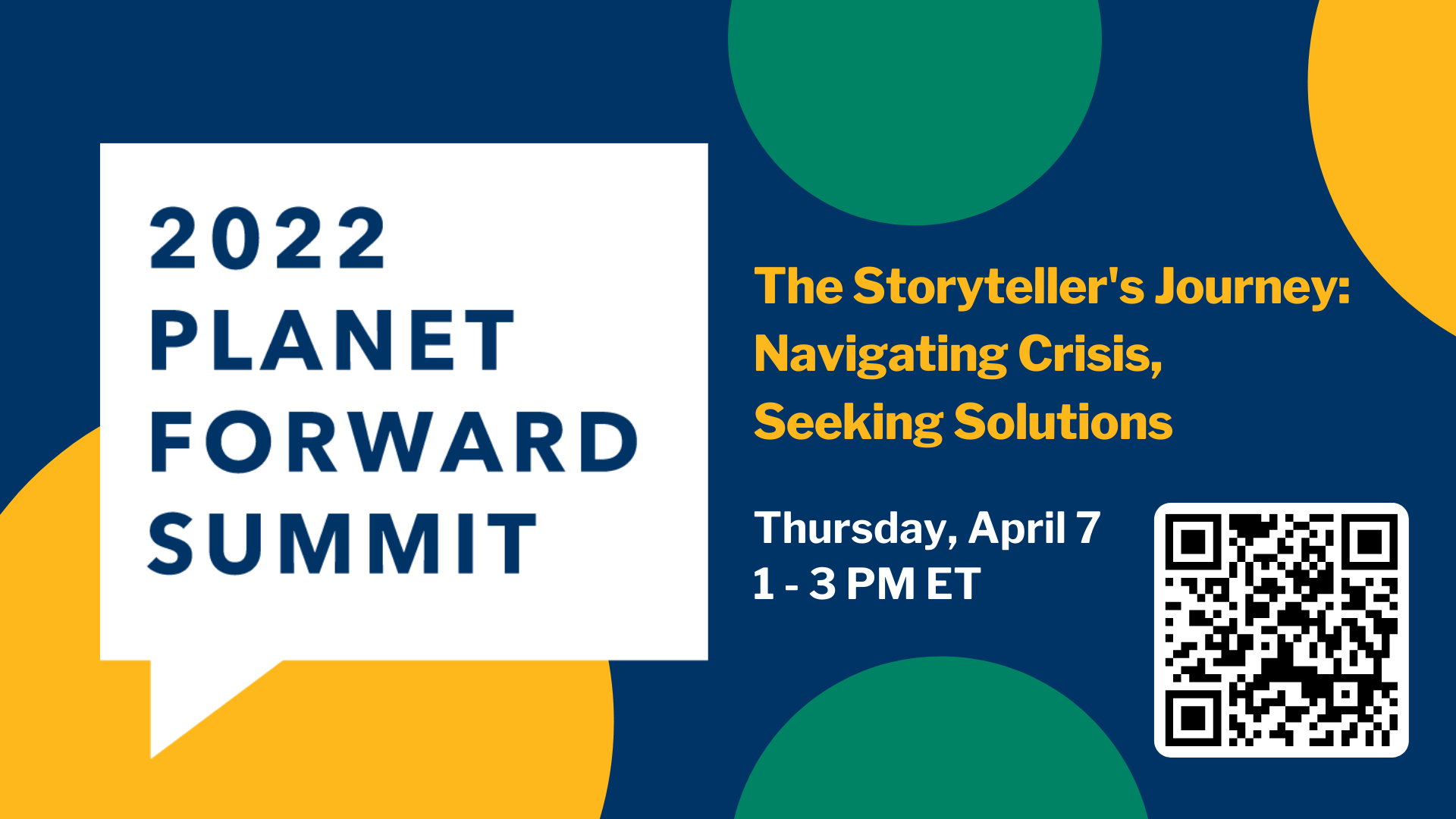 At a moment of urgency and crisis, stories can motivate and mobilize, inform, and engage. 
The University of Connecticut, through UConn Journalism, is now a member of the Planet Forward Consortium, a network based at George Washington University in Washington, DC dedicated to advancing solutions-oriented storytelling from students reporting about the climate, food, water, sustainability, conservation, and environmental justice. 
On Thursday, April 7 from 1-3pm, Planet Forward will host the 2022 Summit, "The Storyteller's Journey: Navigating Crisis, Seeking Solutions. The event will gather experts, media leaders, and young people from around the world to offer solutions and share narratives that address the planet's most pressing problems.
Special guests include celebrity chef and humanitarian José Andrés; National Geographic Explorer Arati Kumar-Rao; Adobe Creative Cloud's Mala Sharma; director of FAO North America Jocelyn Brown Hall; and manager of storytelling and engagement at Project Drawdown Matt Scott. 
 Additionally, winners will be announced from this year's Storyfest competition, featuring the best of student environmental journalism from around the country. UConn Journalism student Zoey England is in the running for the grand prize —a trip to Alaska in June with Lindblad Expeditions to report on climate change.
Students, faculty and staff from all UConn departments are invited to cheer on Zoey and join a stellar gathering of experts and students.
Attend from your own computer or drop by Oak 439 anytime from 1-3 p.m. to be a part of this exciting event! 
We hope you will join us at the Summit for this exceptional learning and networking opportunity.  Discover how you can amplify stories and communicate strategies to help move the planet forward.
To register and learn more about Planet Forward, visit: https://www.planetforwardsummit.org
---