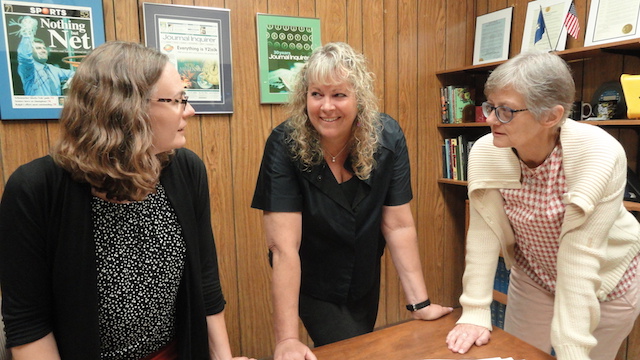 Julie Serkosky '91 spent 22 years as a reporter and editor at the Journal Inquirer newspaper in Manchester before becoming a UConn Journalism assistant professor-in-residence in 2014.
But in moving to the classroom, she hasn't forgotten her roots in the newsroom. Each month, Serkosky devotes considerable time to judging the work of 15 JI reporters to select its Story of the Month.
She typically judges 10 to 20 entries, with an eye to choosing the story that she best resonated with readers in the JI's 18-town circulation area. It might be the biggest story of the month, one written on a tight deadline or one that required a lot of research and use of the state Freedom of Information Act to secure public records.
Sometimes, it's just a story that moves her.
"I try to find a story that a lot of people will read or a story that a lot of people should read,'' Serkosky said during an interview at the JI. "And anything that moves me to tears or almost moves me to tears, I'm going to pick."
Kimberly Phillips, the news editor, and Nancy Thompson, the associate editor, use the contest to motivate their reporters. The winner is revealed, along with Serkosky's critique, at a monthly staff meeting, where the reporter describes how he or she reported or wrote the story.
The JI Story of the Month has other UConn Journalism department connections. For years, it was judged by Prof. John Breen before his death in 2014, and many JI reporters who are UConn Journalism alumni have won it, including Eric Bedner, Skyler Frazer, Tim Leininger, Jessica Lerner, Jackie Nappo and former reporter Joe O'Leary.
Serkosky recalled that in her days at the JI, winning the award boosted morale.
"You feel really good when you get Story of the Month,'' she said.
Phillips and Thompson, who worked with Serkosky for years, said they trust her news instincts.
"She knows what makes a good news story, and she knows what matters to our readers,'' Thompson said.
 Having an outsider and a journalism professor judging the award makes it prestigious, Phillips said.
"Having Julie as a judge gives the award a certain amount of weight," Phillips said. "Her judgment is great."
The editors said Serkosky has been known to make a quirky choice, such as a May feature by Nappo on home delivery of milk in Ellington, rather than a more hard-hitting story. They said she made another unconventional choice last November when she selected Alex Wood's obituary of Barbara King, a longtime Manchester politician and part-time JI employee, as Story of the Month.
Serkosky said she was moved by a detail Wood included: that King put a yellow fabric butterfly on her desk on her first day on the job, and it is still there.
Serkosky said judging the best stories can be difficult because the quality of the journalism has remained at a high level even as the JI, like newspapers of every size, has faced financial challenges.
"I think the JI is stronger than ever,'' she said. "I think it's the best paper in the state for local news. It's amazing to me how hard these people work and how dedicated they are to journalism."
by Kate Farrish '83
---