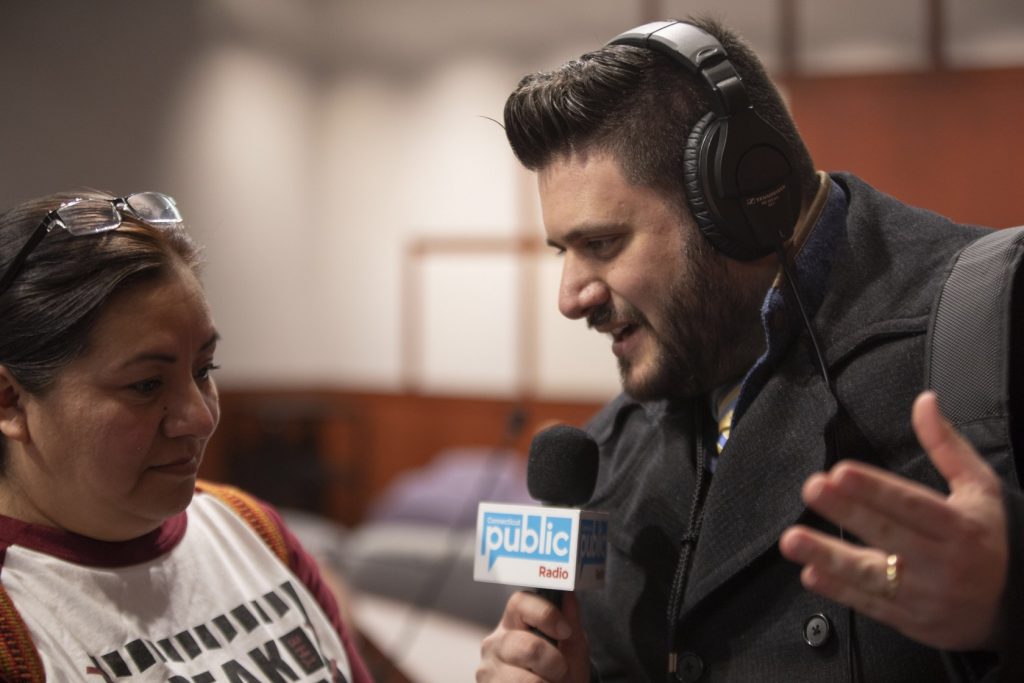 By Sean Boyle '19 
Growing up, WNPR's Frankie Graziano always dreamed of covering sports and never wavered in his determination to become a reporter.
Along the way, Graziano realized that his passion for covering sporting events was rooted in the personal stories he got to share and the relationships forged with sources and listeners alike. He was telling human interest stories that just happened to take place in the world of sports.
Graziano said he enrolled at UConn looking to be exposed to marquee events at a Division I university. After gaining valuable experience through internships and covering on-campus news, Graziano graduated in 2011 with degrees in journalism and history.
Graziano said he understood early in his career the importance for journalists to always be flexible and willing to cover any story, taking on whatever role is necessary for their editor or producers. Now, he's assigned to breaking news for WNPR.
"I like to say yes to any job,'' he said. "You have to be willing to do whatever it takes to get a story…I'm kind of super competitive in that way."
While it may be easy for aspiring reporters to get discouraged by the current state of the industry, it's important to keep up that same determination and tenacity. Graziano said too many reporters nowadays are turned off by the idea of failure. His biggest advice to young journalists: don't be afraid to be embarrassed.
"A good way to approach it is you treat every day like a brand-new opportunity," he said. "It's a good way to forget about mistakes and shake off that humility that so many of us have."
Graziano has covered everything from the state's high school tournaments to doing play-by-play commentary and producing content for TV.
No matter the story, Graziano said he tries to treat each one with the same level of energy and professionalism: whether it requires wearing a full black suit to a baseball diamond on a 90-degree day or having to restrain his fandom while covering the UConn men's basketball run in the 2011 NCAA tournament.
"I do love being in front of the camera," Graziano admitted when asked about his favorite role.
Graziano said he enjoys getting his personality out there for people to recognize, allowing his audience to establish trust once they see the enthusiasm he brings to their story.
In his reporting for Connecticut Public Radio, Graziano is always looking to tell human stories. He considers himself an "everyman," one he hopes people will not only relate with and trust, but also actively seek out as their go-to source for news in Connecticut.
Graziano implores young reporters to "stay at it, no matter what." He said perseverance will pay off for determined journalists, making the moment when they fulfill their dream of telling the right story that much more rewarding.
Follow Frankie Graziano on Twitter: @FrankieGrazie6
---