By Laura Costello '15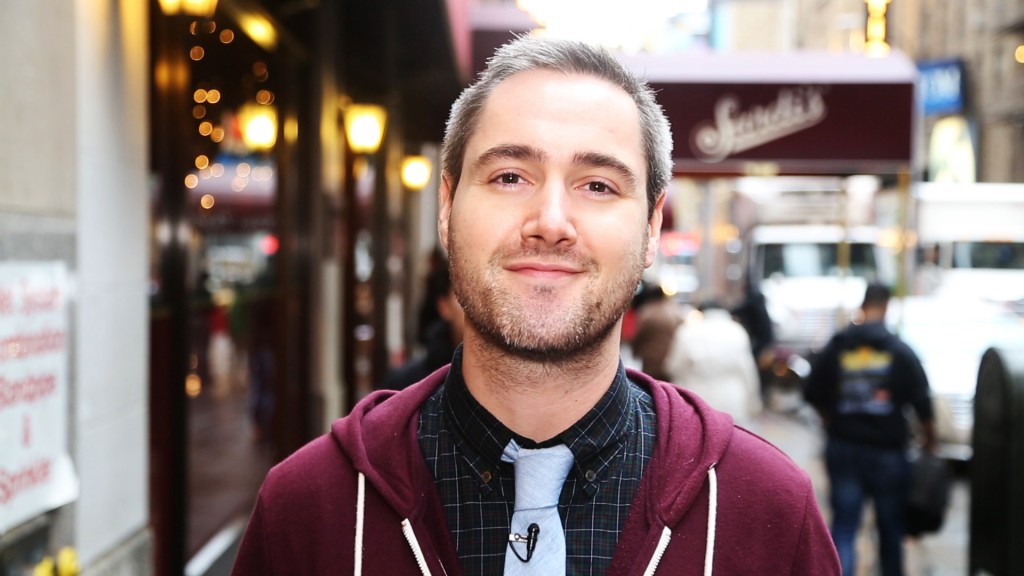 Growing up a train ride away from New York City, Ryan Gilbert always wanted to see Broadway shows.
Now, seeing them is his job.
As national editor of Broadway.com, a website devoted to news and editorial coverage of New York City's theater scene, Gilbert sees every Broadway show at least once and brushes shoulders with some of the biggest names in theater.
He also curates web content for the 43 cities that host tours of Broadway shows through Broadway Across America, Broadway.com's parent company. Recently, he spent several days immersed in the "Phantom of the Opera" production in Orlando, Fla.
He's basically living his dream.
Fifteen years ago, though, his dream was very different.
After graduating from high school in Stonington, Conn., with a scholarship to the American Academy of Dramatic Arts, Gilbert moved to New York City to pursue acting. He completed the program's rigorous three-year curriculum, which requires students to be invited back each year. In 2007, after graduating, he was an extra in "Across the Universe" and the ESPN show "The Bronx is Burning."
This work made him realize: He didn't want to act after all.
"I needed to be producing things, to feel like I was contributing in some sort of way, and that just wasn't working for me," Gilbert said.
Gilbert moved back home and took a job as a waiter at Olive Garden. He was lost until a friend suggested: If he didn't want to be in entertainment, why didn't he write about entertainment?
This motivated Gilbert, who spent three semesters taking courses at the University of Connecticut's Avery Point campus. An avid reader and writer, journalism courses such as "The Press in America" and "Newswriting I" resonated with him.
With encouragement from his professors to continue writing, Gilbert transferred to Storrs. He graduated with a journalism degree in 2012.
"It excited me because it married the two things that I loved," he said.
"To bring those two worlds together, to be able to write about the entertainment industry, really connected with me," he added.
As his post-graduation internship in The Hartford Courant's arts and entertainment section came to an end, Gilbert applied for an open reporting position at Broadway.com and engaged in a Twitter conversation with Broadway.com's editor-in-chief, Paul Wontorek.
"I really wanted him to get to know me, and to see that I might be an enjoyable person to have around the office," Gilbert said.
Gilbert was called in for an interview soon after; he was unemployed for all of three weeks before getting the job as a reporter in 2012. In a mad dash to find accommodations, he crashed on a friend's couch before her roommate moved out, leaving Gilbert the open room.
Just like that, he was living in New York City again.
Gilbert worked as a reporter for a year and a half before being promoted to national editor, but his job is a mix of the two positions. Because his boss didn't want to lose Gilbert's reportorial skills, he still attends shows and interviews cast members.
In his three and a half years at Broadway.com, he's met famous theater actors like Sutton Foster and
Jonathan Groff and interviewed new stars like Alex Sharp from "The Curious Incident of the Dog in the Night-time." He's watched the evolution of groundbreaking new shows like "Fun Home," a musical adaptation of Alison Bechdel's graphic memoir of the same name, and "Hamilton," a musical about founding father Alexander Hamilton.
"It gets me so excited that I'll be able to say something like 'Fun Home' or 'Hamilton' when I'm a parent years down the line, or maybe even a grandparent," Gilbert said. "For those kids, it'll be their 'Phantom of the Opera' or their 'Wicked' or their 'Lion King,' and I was covering it and interviewing those people at the moment of its conception."
The highlight of his experience is the Tony Awards season. When nominations are announced, Broadway.com staff members spend the entire day interviewing nominees.
"It was intense, but it was amazing," Gilbert said of his first nominations day. "You're talking to people in what is possibly the happiest moment of their lives."
"To be able to share in the joy of these people that are living their dream – you never forget it," he said.
In another highlight, Gilbert made Broadway.com the first theater website to run the story about Disney's "Frozen" becoming a Broadway musical in January 2014; it's since become the website's most-read story.
Gilbert hopes to travel to every city in Broadway Across America and visit London's West End. He also aspires to publish a young adult novel that translates his childhood experiences with 10 siblings (three biological, five adopted, and two step-siblings) into a story.
Gilbert doesn't deny his job's challenges. He's had to become a walking database of Broadway information, and his work often encroaches on his personal life. He jokes that it's the reason his hair is already speckled with gray.
Contrary to how he felt in the past, though, Gilbert is comfortable with his job, his identity, and what he has to offer.
"I didn't know what I was or what I would be worth when I was still at UConn," he said, adding, "I'm now at the point where I realize I'm a good journalist."
—
UConn Journalism will celebrate its 50th anniversary on April 15-16, 2016 with special events on campus in Storrs. All alumni and friends are invited to participate in interesting talks, food, tours, drop-in workshops and lots of time to visit with old (and new!) friends. RSVP by April 4. 
---