Camila Vallejo is a 2019 University of Connecticut graduate who double majored in journalism and communications. She is currently a Report for America fellow at Connecticut Public Radio. As a bilingual reporter, her beat focuses on housing disparities in the Fairfield County area. Vallejo's career trajectory began as an intern and freelancer for The Hartford Courant, Univision and UConn Magazine.
Responses been lightly edited for length and clarity.
Did you always know that you wanted to be a journalist?  
I knew I wanted to become a journalist maybe around middle school. I grew up in a Latino household. I'm originally from Columbia, and my mom always saw news anchors as celebrities. To this day she knows every detail about their lives — whether they have kids or are married. The news anchors were really who she looked up to when I was growing up. So obviously, she passed that admiration to me.
As a Latina growing up in the United States, I wanted to find some balance in my news consumption. I looked for different media outlets that I could also follow so I could better understand my community. But I quickly realized that American newsrooms don't have a lot of people in them that look like me. Our newsrooms aren't as diverse as they could be.
Very early on, I decided not only do I like this medium of the news — that I like to write and tell the stories, but that I also want to be the change in American newsrooms. I want to help different communities, specifically vulnerable communities, tell their story and not necessarily be the voice for the voiceless, but be the vehicle to elevate both tragedies and successes in our community.
During your time at UConn, what did you do to get involved in journalism ? 
At first, I was pretty involved with HerCampus my freshman year because I hadn't really decided what kind of journalism I wanted to do. I never really explored The Daily Campus. At the end of my senior year, I started to get involved with the Nutmeg  where I was able to write a couple articles here and there. But really I didn't do a lot of clubs or anything like that.
My main involvement with journalism was through my classes. I was part of Prof. Marie Shanahan's weekly newsletter class for two semesters. That was really fantastic for me. And then in my last year, I was a student writer/intern for UConn Magazine where I was able to write different features and pieces.
What is Report For America? What do you cover as a reporter? 
It is a national service program that places emerging journalists into local newsrooms across the country to report under covered issues. I believe I was part of a cohort of over 300 journalists. I started last year, and on June 1, I will celebrate my first year with the program. I was placed at Connecticut Public Radio and I cover housing and housing disparity issues in Fairfield County.
You've worked at numerous places before landing at Connecticut Public Radio. How did your experiences shape your journey to Report For America?
Shortly after graduating from UConn, I landed an internship with the Hartford Courant, where I was in the features department. I was covering a variety of things in Hartford, whether it was food, events, the arts, etc. I did that for the entire summer and then they offered me the opportunity to freelance for a section targeted at millennials and younger news consumers, and I did that for a couple months. That was a great experience because I was given the chance to pitch the stories I liked, and was able to tell stories about a community that I belong to. The editors there helped me sharpen my journalistic skills and gave me the opportunity to go out and find stories.
Eventually, I found out about Connecticut Public Radio, and I started there as an intern. I was a production assistant for the afternoon news cast "All Things Considered." I moved into a position as a part-time producer for the show. And then I moved up to the Report For America.
What is the hardest part of reporting on housing disparities first-hand?
People often don't want to talk about their hardships. That's completely understandable because who does — especially to the public and with somebody who is a stranger. The biggest barrier is being able to build trust with your sources in order for them to know you want to tell their story. I think that's done through a variety of ways. It's done by visiting them a couple of times before you even turn on your recorder, by asking them if they have any questions for you. It's how you can better understand your newsroom's mission and what kind of story you are hoping to do, and how the story could impact the lives of your sources going forward.
Setting up that good foundation — where your source trusts you — is really important. But it's a challenge in this medium because you are covering really sensitive topics that impacted people's lives. Housing is the foundation of everything. Your housing determines where you go to school, where you are able to find a job, what kind of transportation is available to you, what kind of food stores are available to you. Everything really comes down to housing. So I think when you're in a situation where you're evicted from your home or you are experiencing a foreclosure or you can't find affordable housing that's within your budget, any of those scenarios, it really takes a toll on people. It's just a matter of really being willing to chase the story, and understanding the story often takes time.
How can journalism students get involved with Report for America? Are there opportunities for recent journalism graduates? 
Absolutely! Report For America opens their application every year. There are a lot of opportunities, but only offered for graduates. It's a great process. You apply, you discuss with the hiring managers what kind of work you'd like to do and what interests you, and they try to find a best fit for you. Then from there, you that interview with the newsrooms, and if the newsrooms like you and would like to see you in their workplace, then they give you an offer.
What would you say is the most important aspect of your job for Report for America?
The most important aspect is really making sure that I'm not only covering the issues, but covering people who are affected by these issues. Something that's always been really important to me is to be able to find the humans that are going through this because that's how we really impact change. When listeners are able to understand the kind of impact these large-scale problems are having on one family, on one community, and on one group, I think that's the best way people to connect and for change to really happen.  To able to find a human voice to speak about the kind of issues you're covering takes time, but in the end it's worthwhile because that is what the job is about.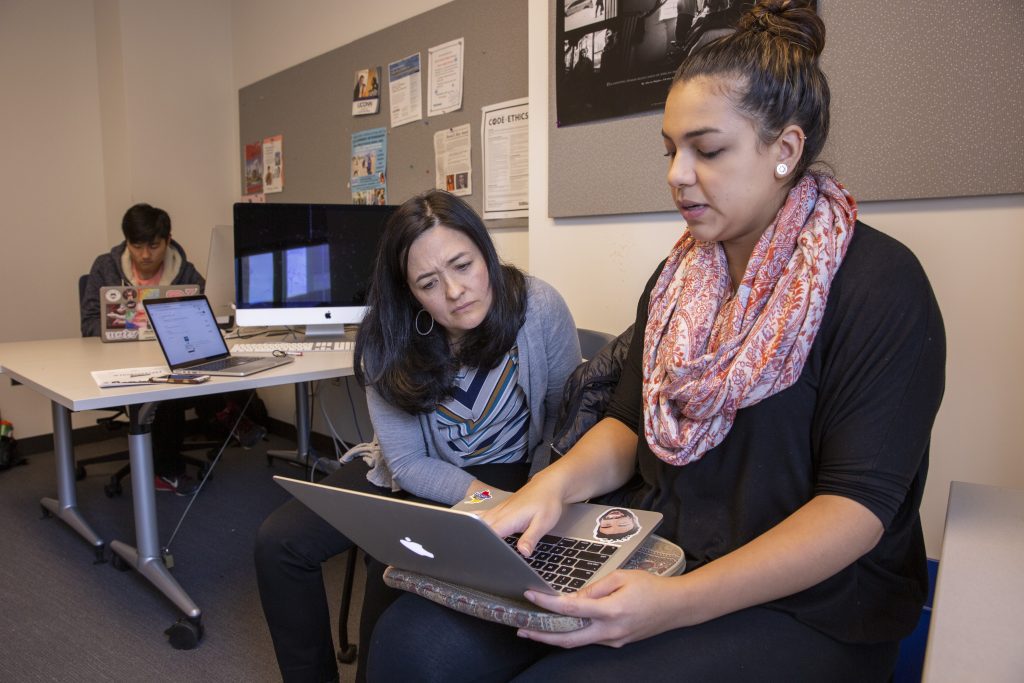 Do you have any advice for UConn journalism majors who may be struggling to gain journalism experience? 
I would definitely explore the different student news organizations on campus. I would also explore the different opportunities that are at UConn in general whether it's opportunities like Professor Shanahan's newsletter production course.  I would also recommend reaching out to local news organizations and seeing if they have any opportunities available, whether it's freelancing or internships. That's the best way to get your name out there and  gain that experience.
In the end, if the organization says no and they don't have anything available right now, then maybe you can build a connection with a journalist there. Maybe ask them for a virtual coffee or in-person coffee. See what kind of connections you can make with people already in the field, because I can say this from personal experience. Once people get to know you, they think about you the next time an opportunity comes around.
Raquel Williamson '22 is a Journalism and Communications double major.
---