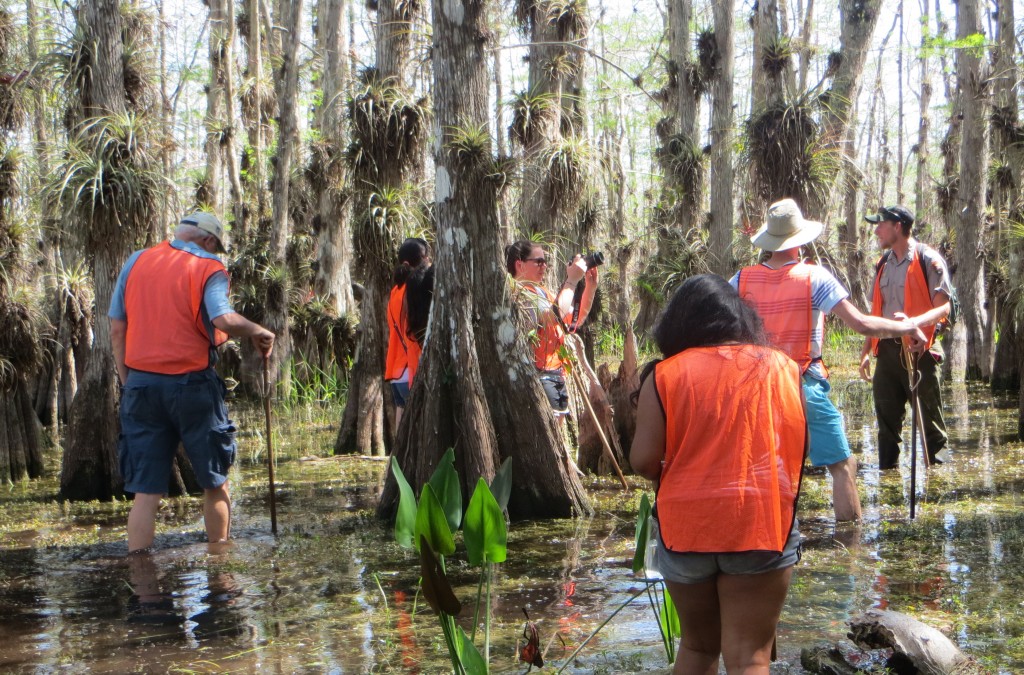 Welcome to Big Cypress Swamp in Florida.
That's me on the left.  I'm with a group of journalism students from the University of Connecticut in Florida during Spring Break in 2014.    We are with a park ranger collecting stories, photographs and video so that the students can report on the fragile health of one of the world's most unique ecosystems – the Florida Everglades.  The Environmental Journalism travel course has been offered three times now, with trips to Florida and in Spring 2016 to Louisiana. Students spent weeks in the course learning about their destination and preparing for the trip.  We spend a week hiking in muck like this, riding air boats, and gliding on canoes or talking to survivors of Hurricane Katrina.  Students return and write a series of stories and multimedia reports, one of which is Everglades14.
This is what I always loved about journalism, the ability to get out and experience the swamp, or mountain, or the story, no matter where and what it is.  I am a journalism and a college professor. I have been a journalist for more than 40 years and I have taught for more than 30 years, including joining the Journalism Department at the University of Connecticut in 2002. During my career I have written more than 6,000 news articles including prize-winning stories and series, specializing eventually in environmental issues. I have published three books and will produce a fourth in June 2016. I have taught a range of news writing courses which increasingly feature the latest in digital journalism, and I have run pilot courses designed to teach scientists and science students how to communicate more effectively with the public.  Those efforts resulted in 2015 in the award of a $500,000 grant from the National Science Foundation to improve science communication.
My latest book, The Man Who Built the Sierra Club, A Life of David Brower, has been my primary professional accomplishment during the past three years. Work on the Brower book began five years ago but intensified in July 2012 when I signed a contract with Columbia University Press. I spent the winter and spring of 2013 on sabbatical, reviewing the papers of Brower and many of his Sierra Club contemporaries. They are housed at the Bancroft Library at the University of California. I spent another six weeks traveling and visiting sites in the West, from the Redwoods to the Colorado River, which Brower worked to protect. During that trip I also culled material from Western research libraries. While the book is a biography, it concentrates primarily on the period from 1953 to 1969 when Brower ran the Sierra Club and built it into the dominant environment advocacy organization of the time. It includes ground-breaking research of a complex leader at a pivotal time in the history of America's environmental consciousness.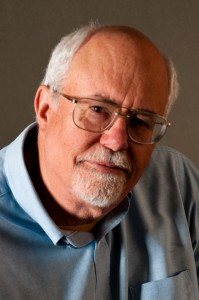 Since I joined the faculty at the University of Connecticut I have produced about 100 newspaper stories and columns, magazine articles, and online publications. A blog, coalblacksky.com, reflects both research I have undertaken during the last five years as well as an interest in using and understanding online and social media communication techniques. The blog was timed for the 75th anniversary of a major air pollution crisis in St. Louis in 1939 and the resulting newspaper campaign to rally support to overcome it.  One book, Brimfield Rush, The Thrill of Collecting and the Hunt for the Big Score published in 2006 is a narrative non-fiction book about the antiques industry and in particular the profile of a young couple who recently joined the business and their struggle to succeed. A second book,  Covering the Environment, How Journalists Work the Green Beat, is a textbook and the first to be issued to assist in the teaching of environmental journalism.   I have also written for the New York Times, the Christian Science Monitor, Boston Globe, Yankee, Rhode Island Monthly and others.
Before coming to the university I was a reporter and editor at the Providence Journal in Providence, R.I., from 1974 to 2002. I started in a suburban bureau, then covered the state legislature and was the primary city hall beat writer, which meant that I often wrote about municipal corruption. Eventually more than a dozen employees including the mayor were forced to resign. In 1985 I began specializing in energy and environmental coverage. I wrote deadline and developed stories, which ranged from magazine narratives to multi-part series that used computer-assisted reporting techniques. I was a business editor for five years. Beginning in 1994, part of my assignment included supervising the newspaper's writing program, which eventually became a national leader in professional training. I ran education programs and developed an Internet site, The Power of Words, that promoted good writing, and I edited and produced an anthology in which writers described the process of writing. These programs, and especially the Internet site, drew critical acclaim in numerous journalism books, articles and other internet sites. Because of the economic upheaval in the newspaper industry, the site is no longer available. However, I do have copies of the book for review if requested.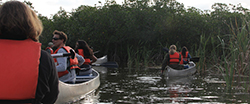 At the University of Connecticut, I teach a wide range of courses, primarily in print journalism, in an undergraduate program that has about 250 students. The courses range from Press in America, an introductory press history course with up to 120 students a semester, to highly specialized reporting and writing courses such as Magazine Writing, Feature Writing, and Environmental Journalism. While I come from a traditional newspaper background, for many years I have been using digital tools to assist students in their reporting and communicating, ranging from Twitter to multimedia reports. Besides the environmental journalism class, I have been working with graduate science students and some science faculty to improve the ability of scientists to communicate with the public. The primary class I have developed features undergraduate journalism students interviewing graduate science students. The interviews are video recorded and critiqued in class. A second class last fall taught graduate science students to improve their ability to write and and produce digital reports for the public.  I also teach Journalism in the Movies, an online course offered most summers.
I live in the verdant village of Mansfield Center, so close to the Mansfield Hollow State Park that it is very easy to go for a hike or put the canoe into the water.  Even though I'm a journalist, not every path has to lead to a story.