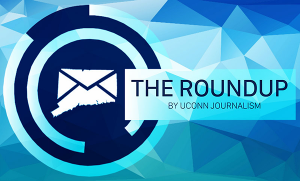 Welcome to The Roundup, a new email newsletter from UConn Journalism that will guide you to the best journalism and most important news in Connecticut each week.
Take a look at our past issues.
If you haven't done it yet, subscribe to The Roundup today. You can also follow us on Twitter at @TheRoundupCT and #TheRoundupCT.
Know of a recent Connecticut news story that deserves to be highlighted in The Roundup? Send us a tip.
Here's the team of UConn student journalists who put #TheRoundupCT together.
Brianny Aybar
UConn Senior

I am a Journalism and Communications double major. I am passionate about writing for women as well as people of color and want to use my platform to uplift the voices of those who are often overlooked. Along with my passion for social justice, I also enjoy all aspects of music, fashion and pop culture.

Gino De Angelis
UConn Junior

I am a journalism and political science double major. I have a passion for reading and writing about politics, and hope to one day work reporting on labor and social justice issues. I am currently a Topic Specialist for the UConn Model United Nations.




Camila Vallejo 

UConn Senior

I am a journalism and communications double major. When not in class you can often find me working for UConn Magazine and the Student Organization Center in the Union. Last summer I interned for Univision in Hartford as a production assistant and developed an interest in video editing. I aspire to be a writer for a prominent women's publication or a reporter for a predominantly Latinx channel. In my free time I enjoy trying new foods, traveling, getting involved on campus and reading a good book.

Ryan Kim
UConn Senior

I am from the suburbs of Philadelphia, studying journalism and digital marketing and analytics. My goal is to break into sports broadcasting. I've written for Philadelphia Sports Nation for four years. UConn has blessed me with opportunities to explore all paths of sports journalism through experiences at WHUS, UCTV and as a founding member of the UConn Journalism Society. When I'm not reporting on the field, catch me behind the scenes in various roles at UCTV, tweeting about the Eagles and Phillies, or outdoors.

Amanda Cabral
UConn Senior

I'm a journalism and communications major and English minor and I've loved writing for as long as I can remember. I've always found media-related careers interesting, whether it's writing, film or video production and I hope to use all of these skills in my future career.

Connor Donahue
UConn Senior

My interest in journalism stems from growing up watching my uncle work at the Boston Herald. Now as a journalism major, I work as the digital editor and a staff writer at The Daily Campus, the student newspaper serving UConn since 1896.


Adam Hushin
UConn Senior

I'm a journalism and communications double major. I work as a writer and reporter for the WHUS radio news department, and serve as secretary for the UConn Journalism Society. Last summer, I interned as a staff writer for the New Britain Herald. I understand the important role that journalists take on in society, and am inspired by the challenges this field faces.

Madison Geerlof
UConn Senior

I'm studying Journalism and Communications. As of right now I find my future plans to be uncertain, but I don't find that to be a bad thing. I am fascinated by political conversation, especially in the midst of the current political atmosphere. I hope to continue my education in communications, and explore the many opportunities both journalism and communications fields provide.

Ryley McGinnis
UConn Senior

I am a journalism and human rights double major with a minor in political science. I've been writing creatively since I gained the ability to put thoughts to paper, but in high school I decided to pursue a form of writing that actually has a career path. I joined the high school newspaper and since then my love for news and journalism has never faltered.

Marie K. Shanahan
Associate Professor of Journalism

I'm the editor of The Roundup and the instructor of this experimental "Publication Practice" class. I've been teaching at UConn since 2011. In my former life, I worked as a reporter and digital editor at The Hartford Courant. I spend way too much time reading too many online comments.
Tell your friends. Subscribe to The Roundup today.
Special thanks to the past members of #TheRoundupCT team: Caitlin Culligan, Eliza Kanner, Caio Goncalves, Gracie Enright, Grace Gagnon, Will Harris, Laura Gelb, and Mike Milius.