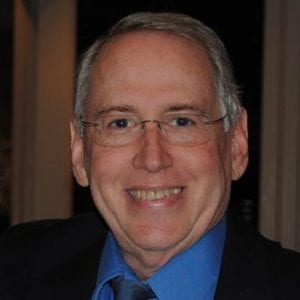 Steven D. Kalb is an award-winning Broadcast Journalism Instructor-in-Residence at the University of Connecticut where he has taught since 2003.
Before being invited to teach radio and television broadcast journalism at UConn, Kalb spent most of his adult life in broadcasting, first as a radio reporter and talk show host and then a TV news director in top ten markets, teacher and talent coach.
During his 35+ year span as a broadcast journalist, Kalb says he has not seen it all, but most. From floods to fires at Superfund sites to the collapse of the Mianus River Bridge to the "lift-slab" construction deaths of 25 construction workers at L'Ambiance Plaza to reporting from a helicopter 1000 feet "up" Kalb says there is nothing better than "being there."
On the Connecticut Radio Network his reporting was heard by tens of thousands as he reported on the murder trial of Kennedy Cousin Michael Skakel, the eight-week corruption trial of Bridgeport Mayor Joe Ganim, and on the sexual assault of children by Waterbury Mayor Phil Giordano. He received numerous awards for his work on WELI Radio, first as a reporter and then as nightly three-hour general issues talk host along with several community awards including a "Civilian Award" from the New Haven Firefighter's Union and a "Media Award" from Planned Parenthood for his issues oriented, community centered journalism.
His work was heard by hundreds of thousands while he worked at KDKA, whose 50,000-watt clear signal reaches 38 states, Mexico and Canada.
For almost three years he wrote a bi-weekly column for the online publications, "Hamden Chronicle" and subsequently the "New Haven Independent."
He was chosen by his journalism peers to serve as one of 4 witnesses to the execution of serial killer Michael Ross.
As a television news director, Kalb ran TV newsrooms in the Boston and Salisbury markets and helped launch and then run a 24 hour all news operation in Philadelphia.
Broadcast Journalism "bit" Kalb early in life. He traces it back to age 8, when he pried the back off his family's Black and White TV and strung speaker wire across the house to his bedroom so he could listen to the Johnny Carson Show without his parents knowing. Kalb says he learned to ask good questions by listening to Carson and others like Mike Wallace, Marvin Kalb (friends, not family!) and Ted Koppel.
Kalb will happily tell you he wants to "be there" when something happens, and thinks everyone is interesting and has a story to tell, you just have to ask the right questions to find it. Kalb says he has spent a lifetime asking, "why?"
Kalb teaches "Introduction to Audio & Video Writing and Reporting", "Advanced Writing and Reporting for Radio & Television" and 'The News Show' where students produce a weekly 30-minute newscast in a single two-and-a-half-hour class. He also teaches "Ethics."
In 2009 Kalb was chosen "Instructor of the Year" by the UCONN Student Government Association. In 2011 the Institute for Teaching and Learning at UCONN conferred on him the title of "Adjunct Professor of the Year."
He says he says that in one way or another he has always been an instructor, adding that his greatest thrill is to watch someone "get it" and move forward into broadcast journalism.
Kalb has served twice as president of the Connecticut Society of Professional Journalists and has been a state coordinator of the Radio Television Digital News Association since 1986. From 1984-1992 and then again from 2015-2018 he was invited by both SPJ & RTDNA to critique reporters and anchors attending either national conference. He is a member of the New York Press Club and the College Media Association.
Kalb has a Bachelor of Arts Cum Laude graduate of Charter Oak State College.