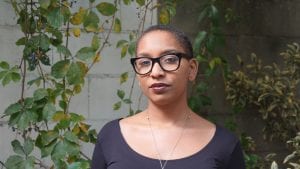 Martine N. Granby is an assistant professor of journalism at the University of Connecticut, with a focus on documentary filmmaking. She holds a joint appointment in the Africana Studies Institute, and is an affiliate of UConn's Women's Gender, and Sexuality Studies Program.
As a filmmaker with a background in visual journalism, Granby produces films that weave between documentary, experimental non-fiction, hybrid, and essay forms. Her creative research focuses on interrogations of and material experimentation with family and collective moving image archives, ethical considerations of found footage usage, discourses around mental health in BIPOC communities, and the narrative residues of pop culture in personal memories/viewership.
Granby's teaching focuses on technical film training and observational critique pulling from diverse film, video, journalistic, and media arts samplings that include but go beyond the traditional canon.
She has worked as a documentarian, producer, editor, video journalist, and educator for The New York Times, Kartemquin Films, The New School, City Bureau, BRIC TV, UnionDocs, and Global Girl Media, an organization empowering young women with the tools for visual journalism to tell their own stories.
As a producer with the Brooklyn-based BRIC TV, Granby co-directed and produced her forthcoming documentary short, NO SIREN LEFT BEHIND, about the sisterhood and legacy of New York's oldest and largest female motorcycle club. At BRIC TV, Granby also co-produced and directed the Emmy-winning #BHeard documentary series, #BHeard Town Halls covering timely issues from #MeToo, Islamophobia to mental health as a civil right. She also produced the weekly magazine-style show "Going In With Brian Vines" centered around local Brooklyn issues.
As the producer of workshops & labs at UnionDocs — a non-profit Center for Documentary Art dedicated to collaborating with activist artists, experimental media-makers, and journalists creating urgent expressions of the human experience, practical and compelling visions for the future — Granby empowered artists to move their projects forward through skill-building, professional development, knowledge sharing, and community connection. She co-created several workshops that delved into varied documentary practices, from choreographed and movement films, photojournalism to character-driven documentary films.
She started production on her current feature film, THE MASK THAT GRINS AND LIES, as a fellow with Kartemquin Films' Diverse Voices in Docs program. The film is a personal meditative documentary unveiling a triptych portrait of intergenerational silence tied to the mental health stigma shrouding the women in her family.
Martine attended Mount Holyoke College where she received her bachelor's degree in Sociology and Film Studies. She earned an M.A. from Northwestern's Medill School of Journalism, and is a proud member of Brown Girls Doc Mafia.